Lighting DIY // Dining Room
Continuing on the DIY lighting theme, let's talk about the overhead light in our dining room. This was actually our first attempt at a DIY chandelier, and it may very well be my favorite to-date. Our dining room links our living room and kitchen - making a nice open-concept feel through-out our first floor. Due to the natural flow of the house, the dining room sees a lot of traffic. As a result, I wanted to make sure we had a light fixture that was substantial in stature without blocking the view or feeling heavy.
I did quite a bit of research and ended up finding a designer by the name of Lindsey Adleman who had some of the coolest lighting fixtures.
I, of course, didn't want to spend a ton of money, so I started looking for a way to replicate the cool designs without spending thousands of dollars. To my luck, I landed on an awesome Brass Chandelier DIY featured on One Kings Lane.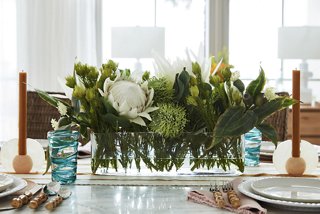 It was perfect! We ordered all of the pieces and parts from Grand Brass and followed the directions to create a brand new light. For just under $150 (including shipping), we had a brand new chandelier!
The new light has been hanging in our dining room for just about a year now, and I think I like it even more today than I did back then. It's perfect for our space.